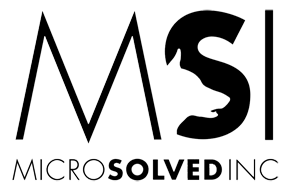 MicroSolved, Inc. is pleased to announce that Brent Huston, CEO and Founder of MicroSolved, Inc., received ISSA's International Senior Member Award, presented at the 5th Annual Central Ohio ISSA InfoSec Summit in Columbus, Ohio. Mr. Huston is the first member of the Central Ohio Chapter to receive this award.
The International Senior Member Award is given to those who have contributed to the security community and sustained membership in the association. Mr Huston has been an ISSA member for 7 years and has twenty years of work experience in the information security field. Huston has spoken at many ISSA chapter meetings and also is a popular presenter at regional ISSA conferences.
"My mission is to continue to evangelize and help organizations go beyond protecting their confidential data from attacks, to actively detecting attacks so they can take action quickly and minimize their risk," said Huston. "I'm fortunate to work with great people and we're all committed to the same goal: to keep data safe."
MicroSolved, Inc. has been providing information security services to Fortune 500 companies, government, financial institutions, and education systems for twenty years.
To learn more about MicroSolved, Inc., visit www.microsolved.com.