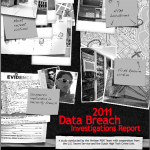 I just listened to Martin McKeay's interview with Alex Hutton and Chris Porter on the latest Verizon Data Breach Investigations Report.
It's a good interview, with Hutton and Porter both outlining how the report compared with last year's and what surprised them. Here's a link to the report.
Check out the podcast, which is about 30 minutes in length. And if you can figure out what the "secret code" is on the report's cover, let us know. We like mysteries!