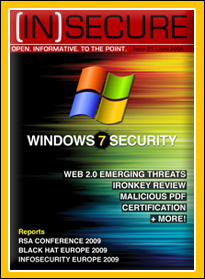 [IN]SECURE Magazine, the fresh and innovative online magazine from Help Net Security (HNS), interviewed Brent for their June issue. Mirko Zorz, Editor-In-Chief, caught up with Brent to pose some great questions that allow the readers a glimpse into a "different kind" of CEO. Brent shares his insights about his role within MSI, future security threats, and developments within the information security field.
You may download the interview here.
Help Net Security is an online portal that covers all the major information security happenings. The portal has been online since 1998 and caters a large number of Information Technology readers specifically interested in computer security. For the entire June issue of [IN]SECURE Magazine, you can download it here. Great reading!