Over the next few weeks, we will be presenting some blog coverage and a couple of public talks about pandemic planning. Given the current information on the H1N1 virus and the outlook from the CDC & WHO, we feel this to be prudent. I wanted to publish this post to draw your attention to the situation and to reinforce the idea that pandemic planning is the exact process to avoid PANIC.
Planning for situations is a responsible, mature act. Panic is a dangerous, and often disastrous response to a problem. Our goal, over the next few weeks is to get you thinking about pandemic planning. While the H1N1 threat may or may not immediately emerge as a significant issue, planning for such events is, in our opinion, a wise investment.
As we move forward in discussing pandemic plans, it will be in the flavor of disaster recovery and business continuity. Hopefully, you already have a basic plan, and this will serve as more of thought points for evaluation and consideration. If you do not yet have a plan, then please use this coverage as a basis for developing one.
Our framework will be around the primary 3 areas: Technology, Policy and Process and Awareness.
Here is a quick and dirty mind map of the topics we will be covering.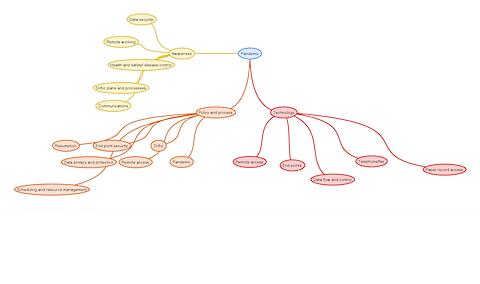 Keep your eyes on the blog for events around pandemic planning and related topics. As always, feel free to let us know your thoughts and comments, as well as any helpful tips you would like to share with others.
Updated Note: Thanks to WordPress for making the above graphic unusable, even when saved. You can download the png image at full (readable) size from here.