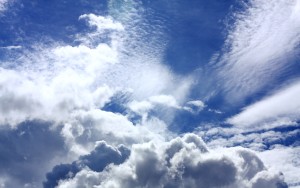 There is a growing amount of information regarding Cloud Computing. Here are some resources that can help your organization sift through "the cloud." They are:
Cloud Computing: Implementation, Management, and Security by John Rittinghouse and James Ransome

Cloud Application Architectures: Building Applications and Infrastructure in the Cloud (Theory in Practice (O'Reilly)) by George Reese

Cloud Computing: Web-Based Applications That Change the Way You Work and Collaborate Online by Michael Miller

What to look for in a Cloud Computing SLA

Security Challenges for Cloud Computing Services

85 Vendors Shaping the Emerging Cloud
These articles focus on the different issues concerning cloud computing such as security, access, and development of standards. Cloud Computing is a strong emerging technology. Check out these articles and books in order to stay informed and leverage the benefits while avoiding the pitfalls of safe data storage.