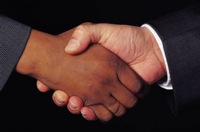 This month's CMHSecLunch is February 11th, at the Polaris Mall food court. It starts at 11:30 am Eastern and goes to 1pm Eastern. The Twitter chat runs at the same time if you can't join in person – use the hashtag #CMHSecLunch to get in on the virtual event.
This is a great opportunity to meet with friends, peers and folks you may not have gotten to hang out with in a while. It is open to the public, there is no cost or registration hassles. You just go to the mall food court for lunch and sit down with friends to talk or maybe even make some new friends.
Turn outs have been great and the group of folks participating is growing. Each month, on the second Monday, we rotate between mall food courts around town so everyone gets a chance to be "close to home". Seriously, it's worth coming out. Think of this as the best part of security conferences (the chance to hang out and chat in the hallways), without the con flu or need to travel on an airplane.
Hopefully, the Twitter hashtag will grow as well and we can use it for folks that are/were in our community, but can't get to the physical event for whatever reason. 
As always, thanks for reading StateOfSecurity and engaging with MicroSolved. We love the CMH infosec community and organizing this event is just another way we hope to give back for all you have done for us over the last two decades! Thanks!!!