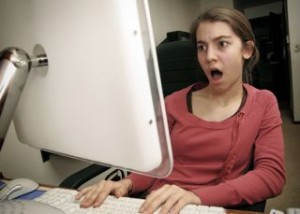 I've been working in the information security business for two years and have been amazed by what I've learned during this time. I remember when I thought, "Information security? Sure. A bunch of geeks patrolling their networks." I had seen the movie Hackers, after all.
But I had no idea of the breadth and depth of information security. Basically, if you're using technology, your data is at risk. Any piece of technology that you use that has sensitive data stored can be stolen. It is up to an individual to be proactive when it comes to information security instead of assuming "The IT Team" will take care of it.
Case in point: This morning I read an article from Dark Reading about Intel's workers thwarting a malicious email virus. Pretty cool. Those workers took the initiative. They didn't say to themselves, "Hmm. this email looks a little dicey, but I'm sure IT has it covered.."
Instead, each worker who recognized the malicious email immediately contacted the IT department. Because of such quick action, the IT department was able to contain the potential risk and take care of it. This type of response doesn't happen overnight (And hopefully won't take two years, either.) but was the result of consistent education.
For me, I've tightened up my own personal security posture as a result of hearing what happens when you don't pay attention. Here are a few precautions I've taken:
1) Never leave a laptop in the front seat of your car.
This may seem basic, but many workers who have a company-owned laptop will often put it on the passenger's side of the car, or on the floor. It is easy to assume that when you stop to get gas and take a quick detour into the convenience store to grab a drink, that no one will bother your car. Don't bet on it.
According to a CSI/FBI Computer Crime and Security Survey
, data loss from laptop theft came in third and fourth behind virus attacks and unauthorized access. Make a habit of placing your laptop in your trunk, away from prying eyes. And if you really want to protect it, carry it around with you. I've been known to carry my laptop inside a CVS, and restaurants. I usually say to myself, "How inconvenient/annoying/scary would it be if this laptop was stolen?" Yep. It's going with me.
2) Passwords, smashwords! We all belong to probably way too many websites that require a password to access it. That's not even counting the passwords we need to remember for our work email, database, or access to the intranet. We're also told by our friendly IT team that we need to change those passwords on a regular basis. If you have trouble remembering what you had to eat for breakfast yesterday, much less trying to remember a password you created three months ago, I have the solution: a password vault. I can't tell you how much this has alleviated the stress of remembering and revising passwords. I use KeePassX, an open-source password vault application.
Whenever I change my password, I immediately open the app and update my entry. Whenever I join a new site that requires a password, I'll add a new entry. It's simple and quick, and will protect me from some joker trying to hack into my sites. Once you get into a habit of changing your passwords, it becomes easier. Believe me, this is a heckuva lot easier than scratching out various passwords and usernames on a scrap piece of paper, throwing it into your desk drawer and then trying to find it three months later.
3) Delete stupid emails. This goes back to the "Here You Have" virus that the Intel employees avoided opening. They immediately saw the risk and reported it. Don't open emails from people or groups that you don't recognize. In fact, I created a spam folder and just move those types of emails into it if the regular spam filter doesn't catch them. I empty the folder on a regular basis. No matter how enticing an email header is, if you don't recognize the sender, trash it. For those who are detail-oriented, you really don't have to open every email you receive. Really. You probably didn't win that lottery, anyway.
4) Be suspicious. This one is probably the most difficult for me. I'm a friendly person. I like people. I was raised by two very outgoing parents and hence, I have a soft spot for striking up conversations with perfect strangers. I find I'm a magnet for some of them, too. When you're in your office, this can be used against you by a clever attacker. If you're an IT staff person, you may get a call from someone who is in some type of a bad spot and needs access to "their" data at work and gosh, could we just skip the authentication process? Because most of us are wired to help others (thank you very much, customer service training), we obviously try to be of assistance. Meanwhile, the attacker is counting on this and will press an employee to give them information without checking their credentials. If anyone calls me and starts asking a bunch of nosy questions, I'll start asking mine right back: "What company do you represent? What is your name? What is your phone number? Why do you need to know this information?"
Sometimes asking such questions may feel awkward, but remember, we're protecting our company's data. We're on the front line and a little discomfort can go a long way in winning the battle of security.
These are a few things I've learned over time. Information security isn't only the IT department's job or the CISO/CTO/CIO's. It's a job that belongs to everyone. If I could sum it up, I'd say this: Be aware. Be aware of your surroundings, aware of your technology, aware of access points. Keeping your eyes and ears open will not only save you a bunch of headaches (and perhaps your job) but will save your company money. And in today's economy, that is a very, very good thing.