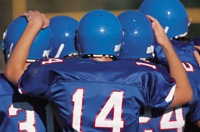 By now, you may have heard about our new TigerTrax™ powered services. We formally announced them this week and the interest in them has been very high. Today, I wanted to provide a bit more context to the last year or so, especially around a particular use case for TigerTrax that is pretty unique and intriguing.
We originally developed the TigerTrax platform to super charge our threat intelligence activities against real bad guys in the world. It grew out of our need to better manage and explore the vast amounts of data we get from the HoneyPoint Internet Threat Monitoring Environment (HITME), but even as we leveraged it against cyber-crime, other use cases quickly emerged.
One of these use cases was developed by engaging directly with an NFL team. The team worked with us over a number of months as we tweaked out the capabilities of the system and adapted it to more of a social focus than a crime focus for their needs. Today, the system provides ongoing monitoring of a number of social media sites and their content, continually providing for both positive examples of expected behavior, as well as identifying violations of the player code of conduct. With all of the press and public media attention to some high profile examples of athlete misconduct, the teams are now taking this very seriously.
MSI has developed TigerTrax into a modular platform that easily scales to monitoring all of the player, cheerleader, coaching, back-office and ownership staff against the code of conduct. The social media content is gathered in near real time, and an analytics engine provides advanced techniques to flagging potential behavioral issues. The system is also continually adapted to new forms of behavior, shifting social issues (bullying, homophobic and racial issues, etc.) and the evolving concerns of the team management. Combining the TigerTrax technology with a team of deeply skilled human analysts, strong player skill development expertise and social media education focused on personal branding and social leadership was a natural fit for the evangelical approaches that MSI has practiced for more than 20 years in our information security engagements.
In addition, one of the key differentiators of TigerTrax, is not just the analysis of the key parties' (players, cheerleaders, coaches, etc.) content, but also the global content from the social media sphere around specific events and actors. Using this crowd-sourced sensor approach, we have been able to identify misbehaviors and code of conduct violations, simply by capturing the data and correlating/validating it from observers in the public. The same techniques have also allowed us to use the public data to defend players and other parties against grossly exaggerated or completely false accusations against their character. Indeed, for some players, TigerTrax has made an excellent tool in DEFENDING their reputations!
Over the last few years, we have taken the initial platform developed for threat intelligence against cyber-crime, and adapted it to a variety of professional sports, business applications, investigative and forensic activities. We have expanded the platform beyond simple keyword analytics and are beginning to actuate on sentiment, data flow anomalies and deeper content analytical problem solving. In the years to come, we view TigerTrax as a very capable core business empowerment platform for MSI, just as impactful as HoneyPoint has been since 2006. We are still developing use cases for TigerTrax and the service offerings it has empowered for our clients. If you have a potential new use case that you would like to discuss, or if you would like to hear more about reputational threat intelligence and monitoring, please give us a call.
MSI is also seeking a handful of key business partners interested in helping us grow the TigerTrax platform adoption by bringing these unique capabilities to their clients, or by adapting the capabilities into new service offerings. If your business has an idea for how to leverage the TigerTrax capabilities, give us a call. We will be happy to explore new solutions with you.
As always, thanks for reading and thanks for partnering with MSI!