Great news!
We are currently prepping for the public release of HoneyPoint Personal Edition 2.00 on Monday. The product has been through two closed Beta's and a great period of pre-release testing. Thanks to all who helped with the testing and for all who contributed to our cause with product feedback. A special thanks to "DA" from a local organization who really held my feet to the fire on changes and interface updates. Hopefully, everyone will be pleased with the interface and features! (BTW – D – we kept the "lights"…<grin>)
Here is a screen shot of the new main interface on the Mac.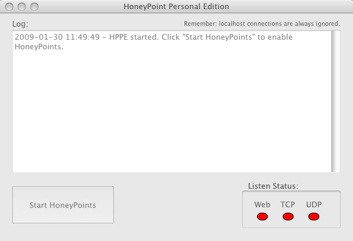 New features include:
HornetPoint defensive fuzzing (patent pending)
Plugins capability from HPSS
Public support for Linux and OS X in addition to Windows
and a few other goodies….
Also, this represents the beginning of the new line for HPPE. Development will remain ongoing on it and we have few more tricks up our sleeves. We are also working on HPSS 3.00 and will begin alpha testing of that new architecture very soon.
Stay tuned for the launch and for more details as they become public!