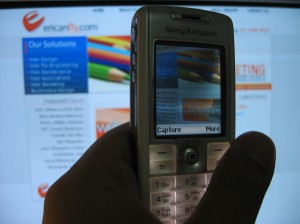 Mobile banking users are predicted to reach 400 million by 2013, according to a study by Juniper Research.
The report author, Howard Wilcox, says that transactional or "push" mobile banking is being offered increasingly by banks via downloadable applications or the mobile web, complementing existing SMS messaging services for balance and simple information enquiries.
"For the user it's about three things: convenience, convenience and convenience," Mr. Wilcox said. "The mobile device is almost always with you, and if you organize your life with your mobile, then why not your finances too?
"For example, people can receive account alerts and reminders straight away and take action immediately if necessary – say to top up an account or pay a bill," he said. "With apps, the whole process is made so much simpler too."
We know consumers want to make their lives easier — and using applications on their mobile phones seems to promise that, but how can you secure those applications?
Here are some of the steps you can take to start making your mobile applications secure:
Security controls: One of the main issues with smartphone applications is access control. These apps are usually used in the most vulnerable locations: public settings such as airports, restaurants, and lobbies. All mobile devices must have a protective mechanism that allows it to be accessed by authorized persons only. A few ways to monitor control would be: install anti-virus software, file encryption, session encryption, device registration, and password complexity rules.
User authentication: Access privileges are limited to those who use the smartphone device. Personal identification numbers are generally an acceptable means of authentication because they reside on the device only and are never transmitted.
Data Encryption: A powerful defense tool, encryption prevents anyone but the most savvy attacker to access important information. Ensure that the process is automatic and transparent to the user and protects all stored data. Systems that require user involvement to encrypt specific files in specific places cannot provide the "provable" security regime needed by organizations. Encryption is effective only if authorized people control the decryption key, so there needs to be a connection between encryption and user authentication. Access control, user authentication and encryption are the three elements that comprise virtual physical-access control.
Security administration: This needs to be in place for customers who have questions or need help. Policy enforcement, deployment, updates, help desk, key recovery and system logging are all vital components of an enterprise system that provides "provable" security to comply with data privacy regulations and to repel litigation.
Many phones use RSA encryption for authentication. While most of the big antivirus vendors provide security solutions for smartphones, few have the "silver bullet" for all platforms. As device manufacturers continue to add processing power and storage capacity; and platform vendors provide more applications for generating and consuming data, security will become a greater concern as attackers look upon it as their new playground.