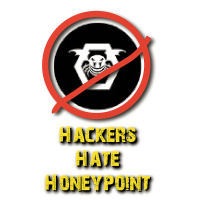 We have been getting so much great feedback and positive response to our HoneyPoint products that Mary Rose, our marketing person, crafted this logo and is putting together a small campaign based on the idea.
We are continuing to work on new capabilities and uses for HoneyPoint. We have several new tricks up our sleeve and several new ways to use our very own "security swiss army knife". The capabilities, insights and knowledge that the product brings us is quickly and easily being integrated into our core service offerings. Our assessments and penetration testing brings this "bleeding edge" attack knowledge, threat analysis and risk insight to our work. We are routinely integrating the attack patterns and risk data from our deployed HoneyPoints back into the knowledge mix. We are adding new tools, techniques and risk rating adjustments based on the clear vision we are obtaining from HoneyPoint.
This is just one of the many ways that HoneyPoint and the experience, methodology and dedication of MSI separate us from our competitors. Clients continue to love our rapport, reporting formats, flexibility and deep knowledge – but now, thanks to HoneyPoint, they also enjoy our ability to work with them to create rational defenses to bleeding edge threats.
You can bet that you will see more about HoneyPoint in the future. After all, hackers hate HoneyPoint, and in this case, being hated is fine with us!